How to Create a Home Gym?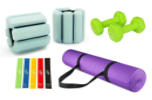 How to Create a Home Gym?
Can one stay fit and active without going to the gym? Learning how to create a home gym is the first step towards your fitness goals.
Most gyms are either closed or partially open (with little or no space). Exercising at home is an excellent alternative to get in shape. It saves time and doesn't require you to spend a fortune on gym memberships that often stay unused.
All you need are the right equipment, a designated workout spot, and the determination to sweat it out. Plus, you can do this by staying within your budget or going all out with a fully-equipped basement gym. That part of the plan is up to you.
Here are a few tips to get started:
1. Select the Right Home Exercise Space
People with basements, backyards, or big apartments generally have several choices compared to those who live in studio apartments.
Before buying your home gym equipment, select your workout spot. Make a list of things required to perform your workout regime. It helps you figure out how much space and storage room you'll need for your workout sessions.
Ask three questions:
· What kind of exercises do you want to do?
· Does your workout session require any equipment?
· How much space will you need?
Then go around the house to find a spot that can accommodate everything.
2. Choose Your Home Workout Equipment
The trick is to select exercises and equipment that saves space and fits your routine. For instance, basic exercises like sit-ups, pushups, lunges, and squats don't need much. Throw in a yoga mat, and you are all set. You can add multipurpose equipment into the mix to add variety to your workout regime.
Here are a few other suggestions:
· Jump rope for a mini-cardio workout
· Resistance bands as a substitute for free weights
· Kettlebell and dumbbells for weight lifting
· Exercise ball for maintaining good posture and muscle strength
· TRX system for suspension training
If you have money and space, you can go ahead with heavy-duty home equipment.
It includes a treadmill, max trainer, etc.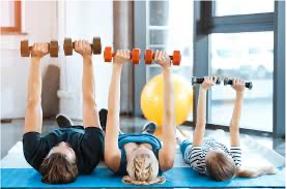 3. The Set Up
Knowing how to create a home gym goes beyond home exercise space and equipment. You need the right mood to get up and move. There are other variables to consider, like WIFI connection and screen for online tutorials/training. Or, you may want to invest in a Bluetooth speaker to put on some motivating workout track in the background.
Besides this, consider keeping:
· A water bottle to stay hydrated
· Proper workout attire for unrestricted movement
· Mirror to stay motivated and watch your movements
· Separate gym towels to wipe off the equipment and keep you cool, respectively
Add other fitness accessories customize your home exercising space according to personal preferences.
Final Words
Now that you know how to create a home gym, nothing can stop you from accomplishing your fitness goals. It allows you to stretch your muscles, burn off calories, and stay in shape. Also, daily at-home exercises keep you energetic too.
Also, it is a safer option with pandemic still at large.
So what are you waiting for? Go get set up your exercise space.